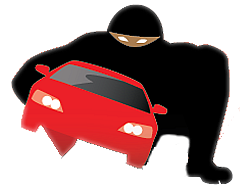 Ninja Auto Sales Customer Reviews  ensure we are doing our best!
At Ninja Auto Sales you get the respect, quality, and service you deserve. Customer service is our #1 priority and amazing post sales support and more.

Read what our customers are saying about us: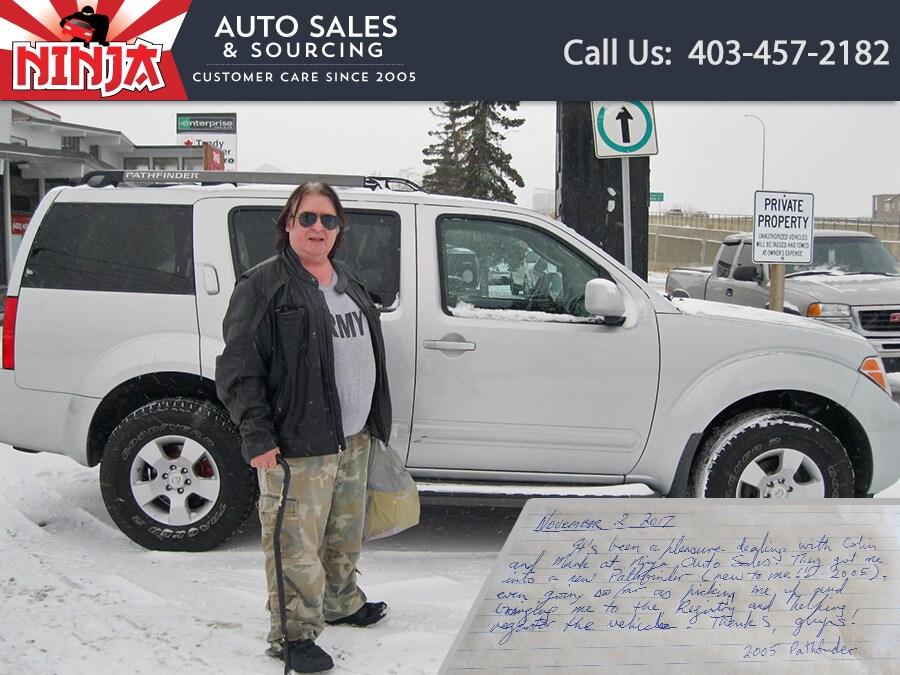 It's been a pleasure dealing with Colin and Mark at Ninja Auto Sales. They got me into a new Pathfinder(new to me!! - 2005). Even going so for picking me up and driving me to the registry and helping register the vehicle.
Thanks guys!
---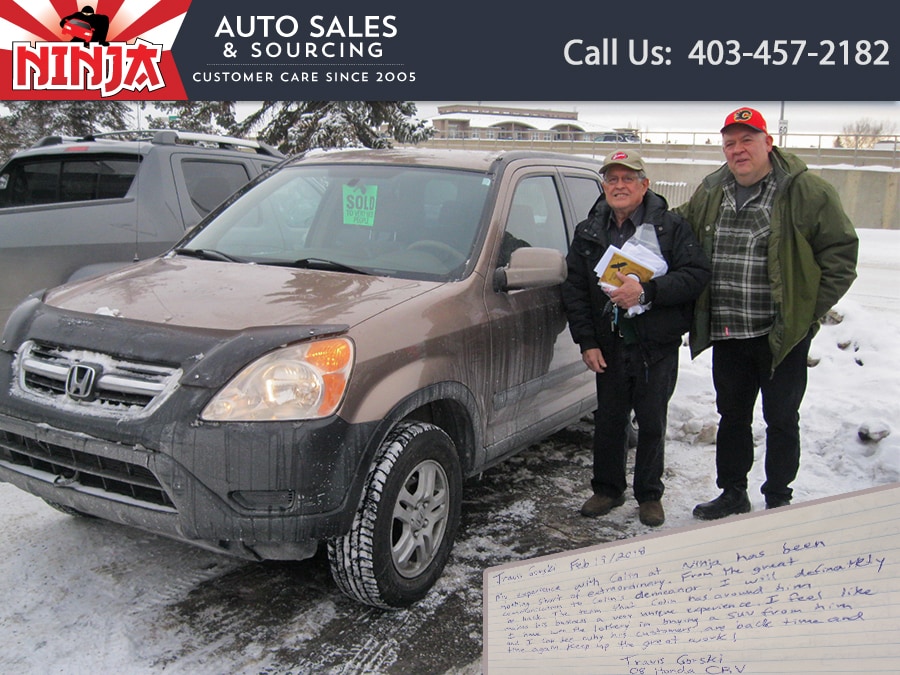 My experience wth Colin at Ninja has been nothing short of extraordinary. From the great communication to Colin's demeanour, I will definitely be back. The team that Colin has around him makes his business a very unique experience. I feel like makes I have won the lottery in buying a SUV from him and I can see why his customers are back time and time again. Keep up the great work!
Travi
---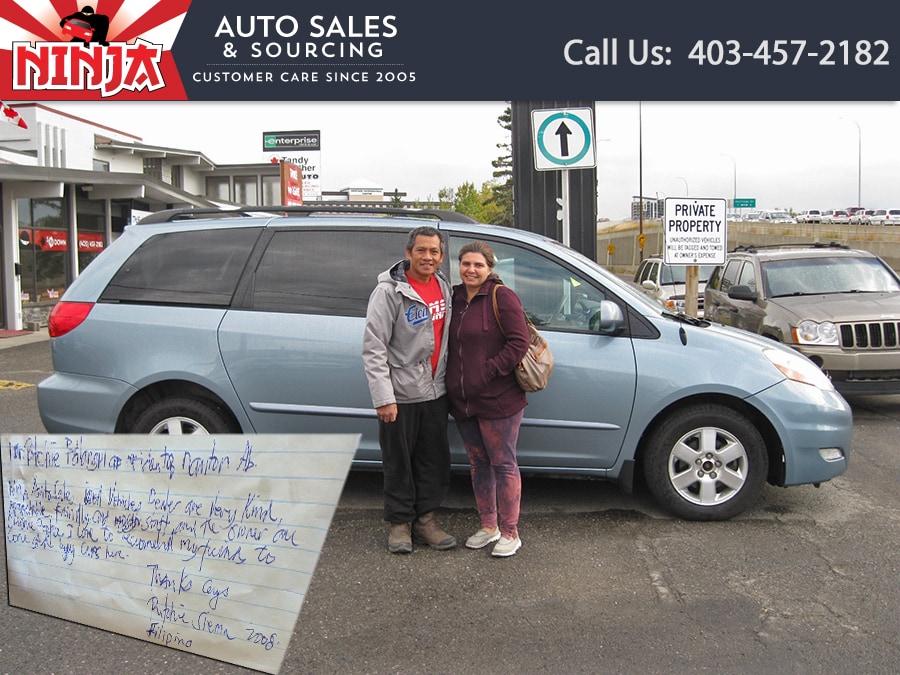 I mr Pitchie residing in Nanton, AB
Ninja Auto Sales used Vehicles Dealer are very Kind, approachable, friendly and staff and the owner are awesome people. I will recommend my friend to come and buy cars here.
Thanks guys,
- Pitchie
---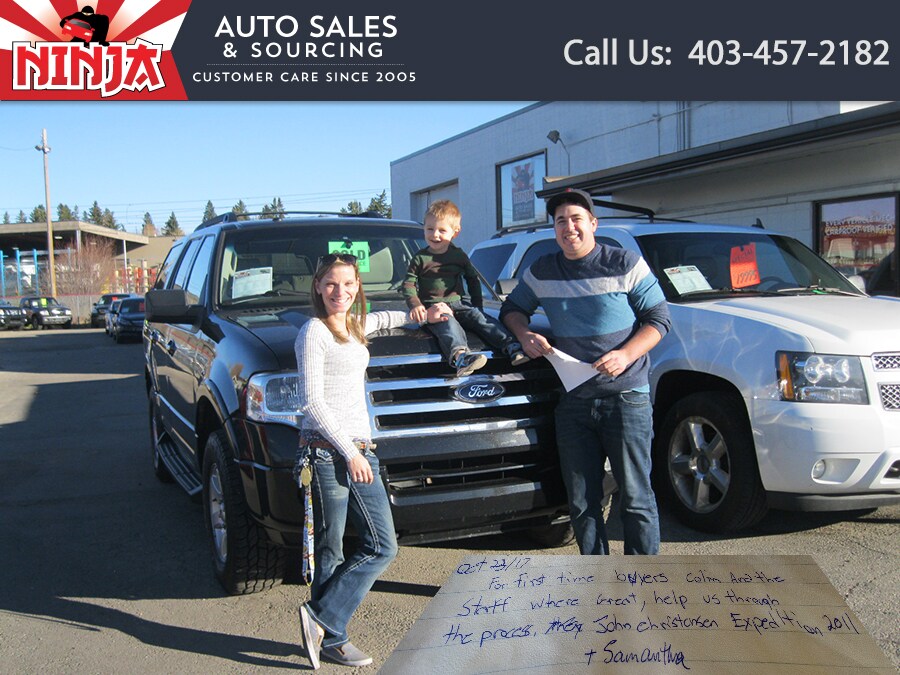 For first time buyers Colin and the staff where great, help us through the process.
John and Samantha
---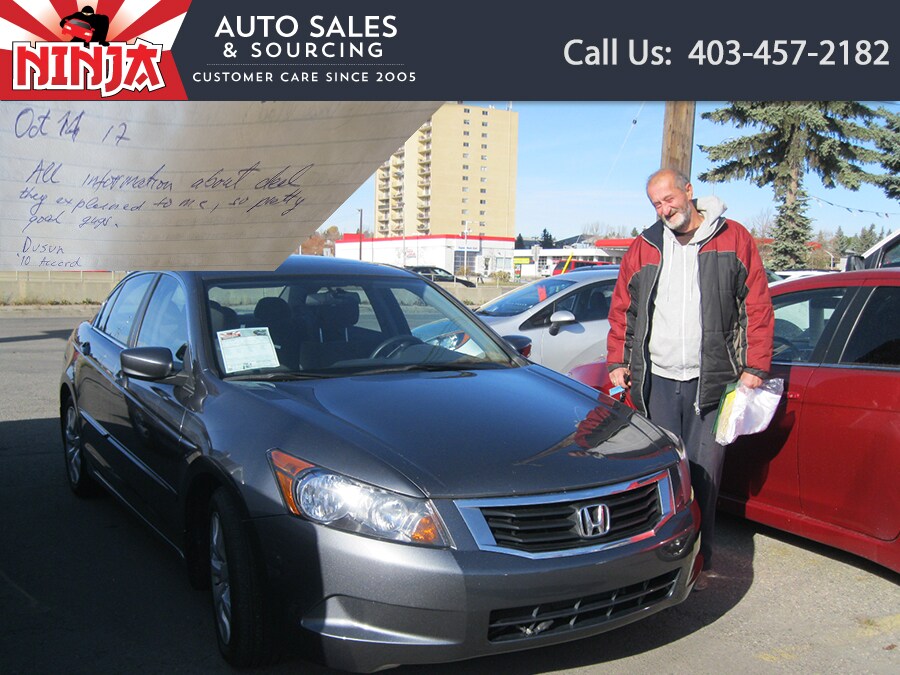 All information about deal they explained to me, so pretty good guys.
Dusun
---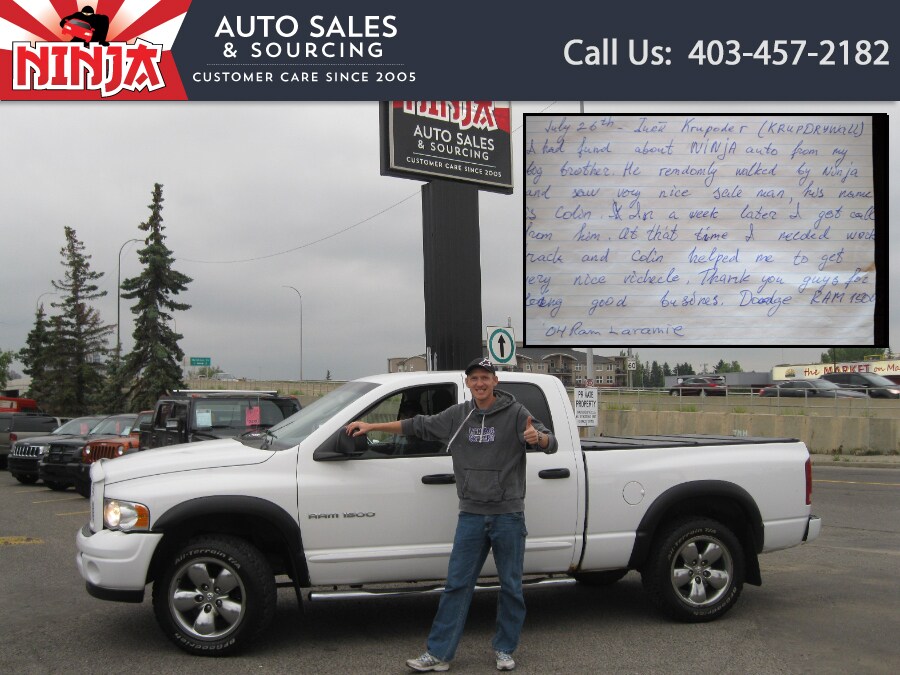 "I have found about NINJA auto from my big brother. He randomly walked by Ninja and saw very nice sale man, his name is Colin. In a week later I got call from him. At this time I needed a work truck and Colin helped me to get very nice vehicle. 
Thank you guys for doing good business."
- Krupoder
---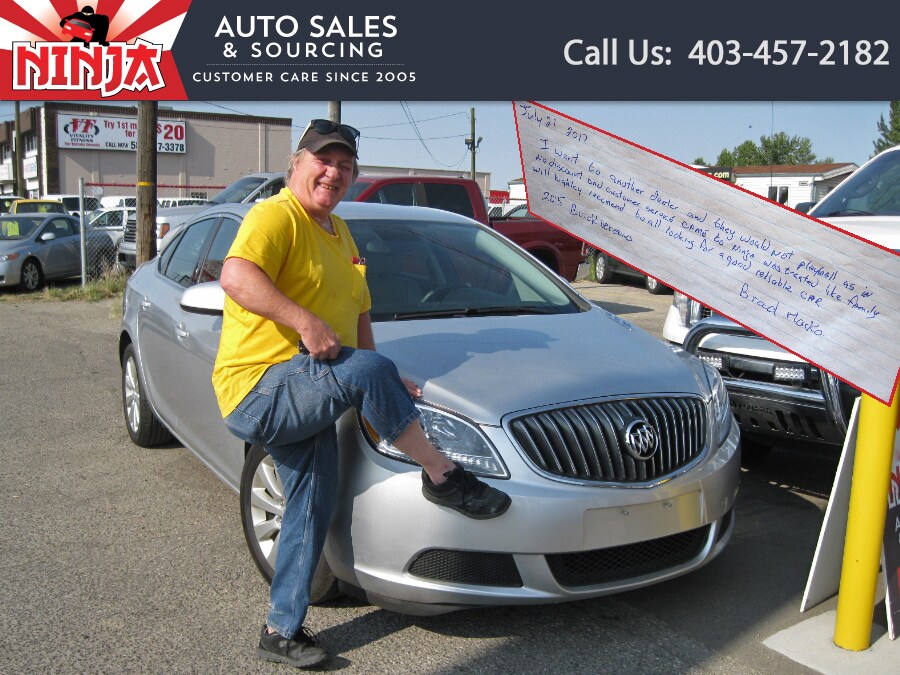 I went to another dealer and they would not playable as in no discount, bad customer service. Come to Ninja was treated like family. Will highly recommend to all looking for a good reliable car.
- Brad
---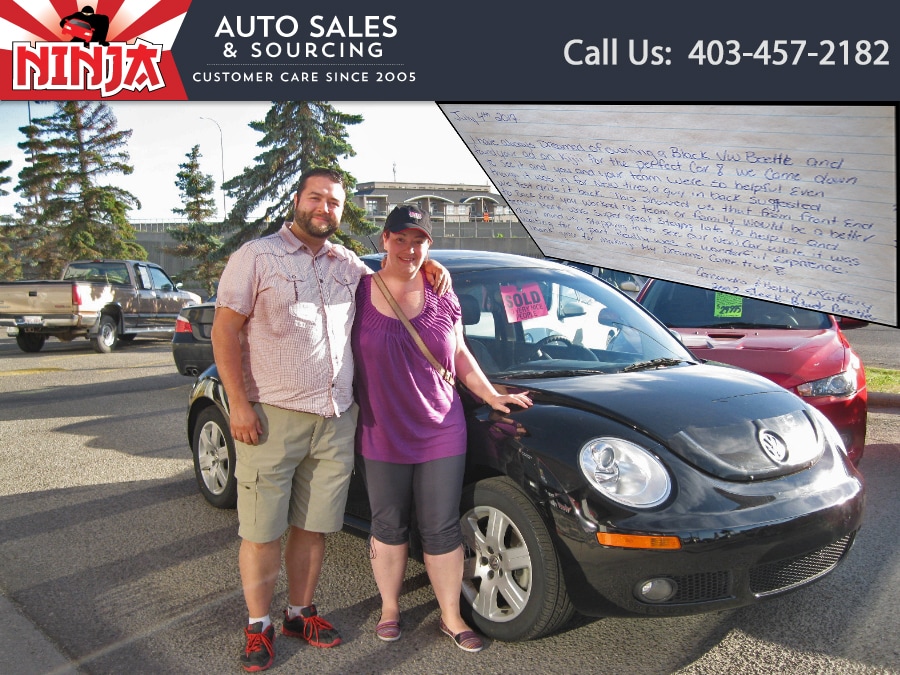 I have always Dreamed of owning a Black VW Beatle and found your ad on kijiji for the perfect Car & we came down to see it and you and your team were so helpful. Even thought it was in for new tires,  a guy in back suggested we test-drive it back. This showed us that from front end to back end you worked as team, or family would be a better term :) Mark was super great staying late to help us and didn't mind us stopping in to see our new car while it was waiting for a part. Really was a wonderful experience. 
Thank you for making my Dreams Come true!
- Cassandra & Bobby
---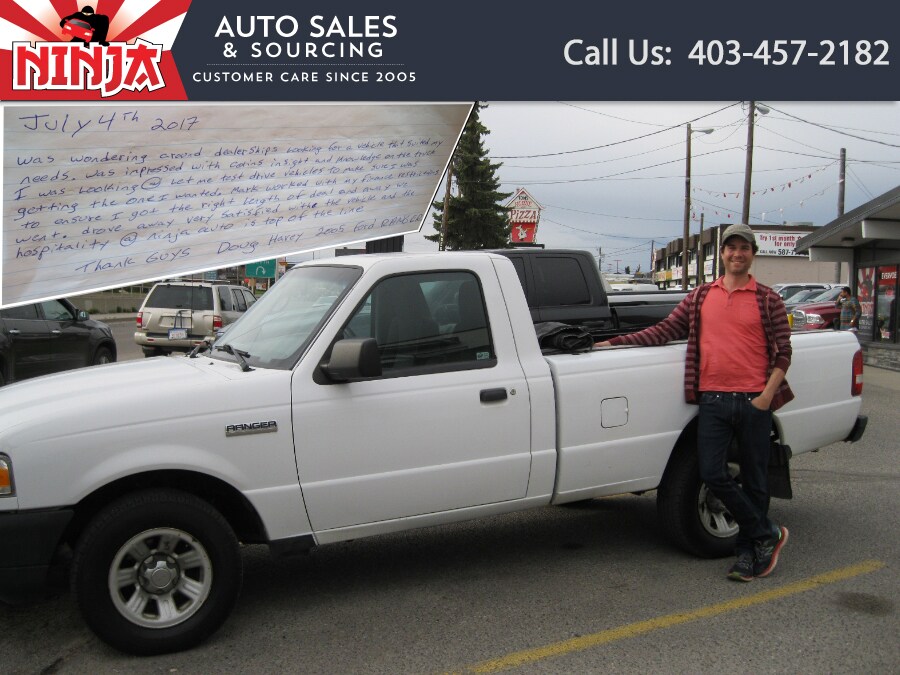 "Was wondering around dealerships looking for a vehicle that suited my needs. Was impressed with Colin's insight and knowledge on the truck. I was looking @ let me test drive vehicles to make sure I was getting the one I wanted. Mark worked with my finance restrictions to ensure I got the right length of deal and away we went. Drove away very satisfied with the vehicle and the hospitality @ ninja auto is top of the line. 
Thanks Guys 
- Doug "
---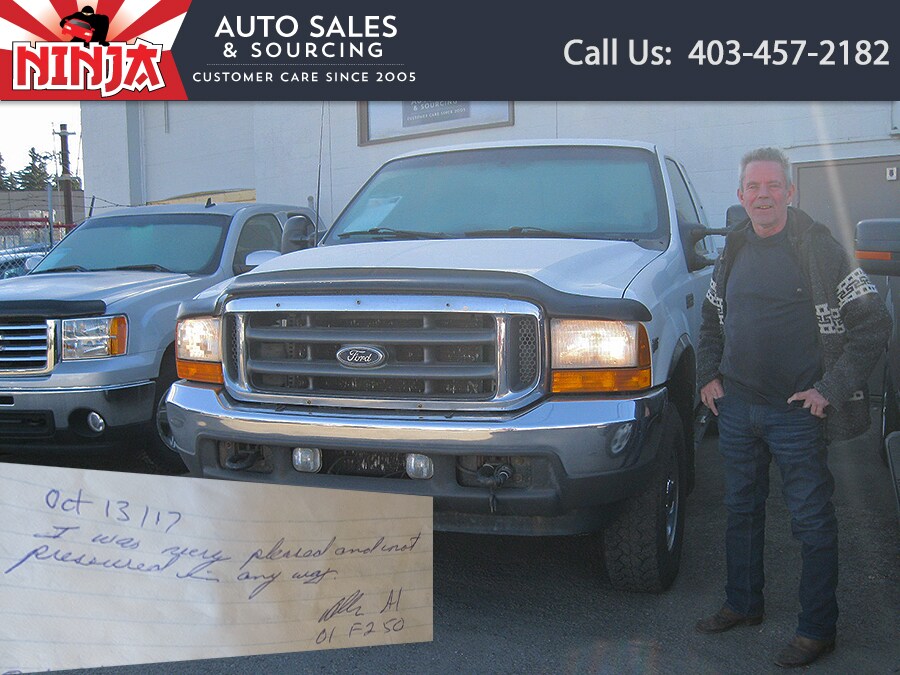 I was very pleased and not pressured in any way.
---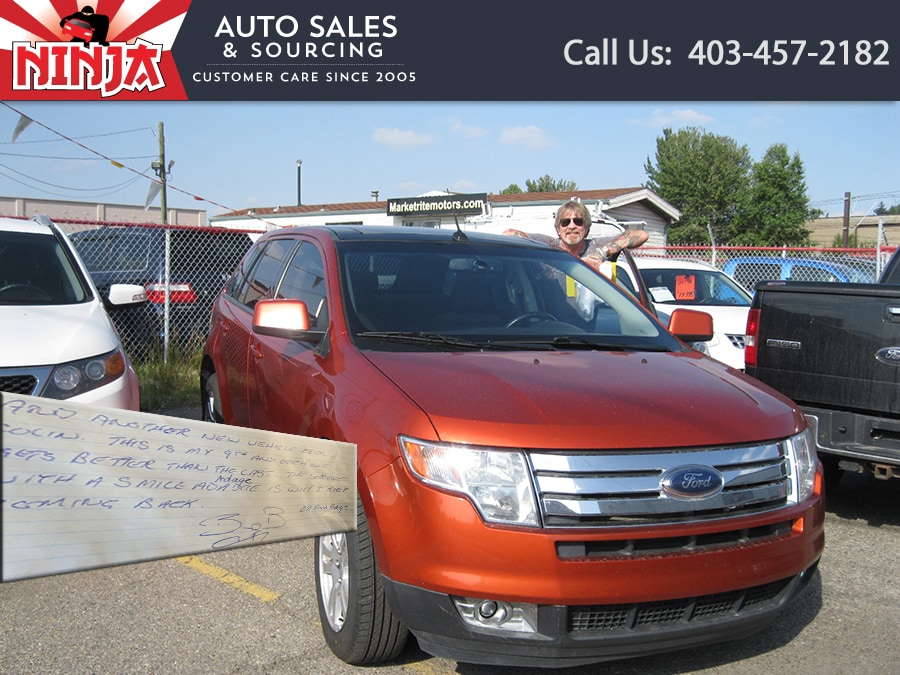 And another new vehicle from Colin. This is my 9th and each one gets better than the last. The service with a smile adage is why I keep coming back.
- Bob
---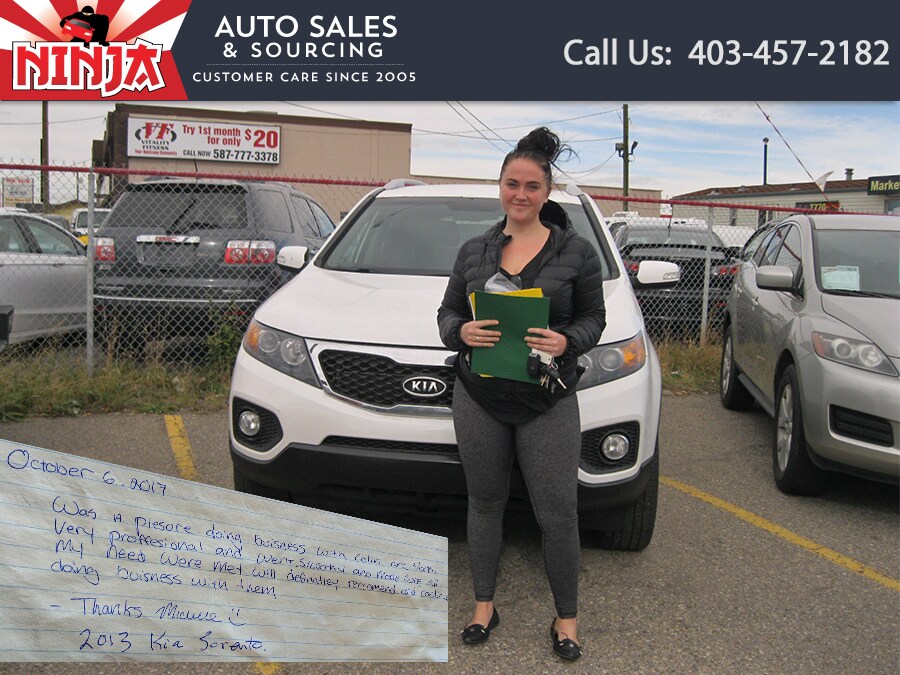 Was a pleasure doing business with Colin and Mark. Very professional and went smoothly and made sure all my needs were met. Will definitely recommend and continue doing business with them.
- Thanks Michele
---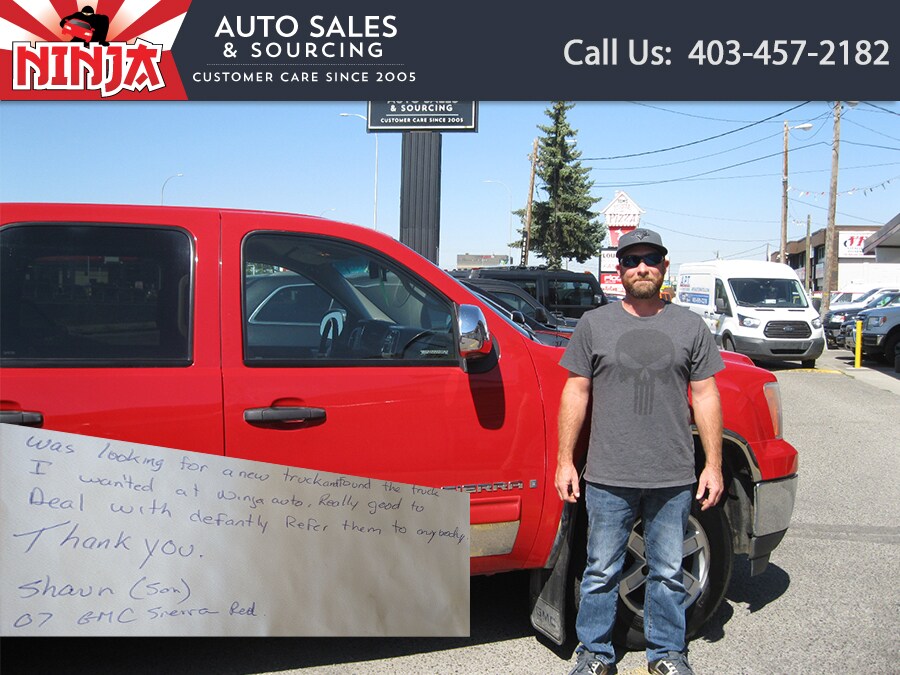 Was looking for a new truck and found the truck I wanted at Ninja auto. really good to deal with. Definitely I will refer them to anybody.
Thank you,
- Shawn
---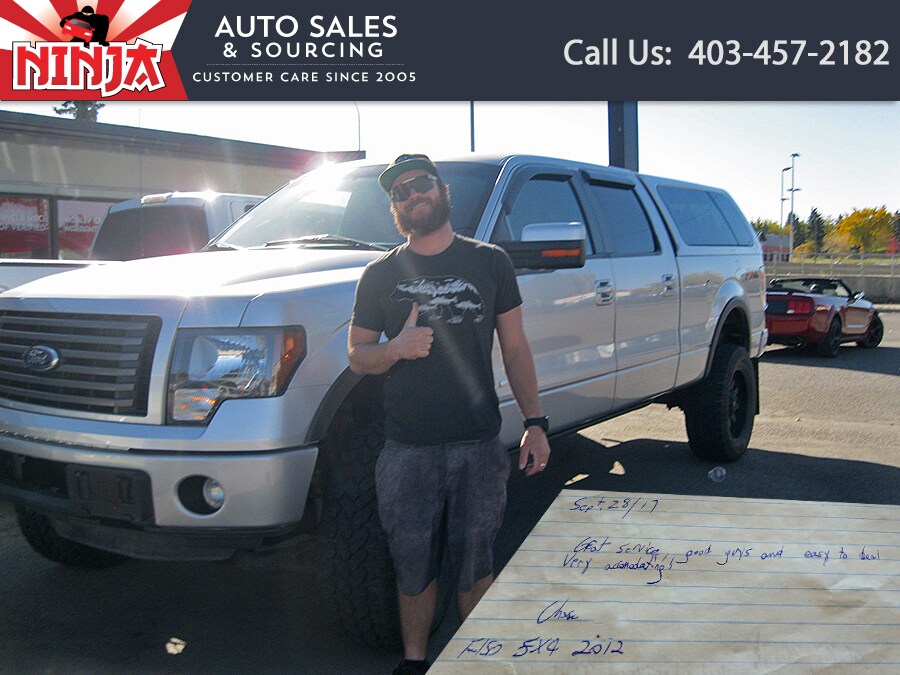 Great service, good guys and easy to deal. Very accommodating!
-Chase
---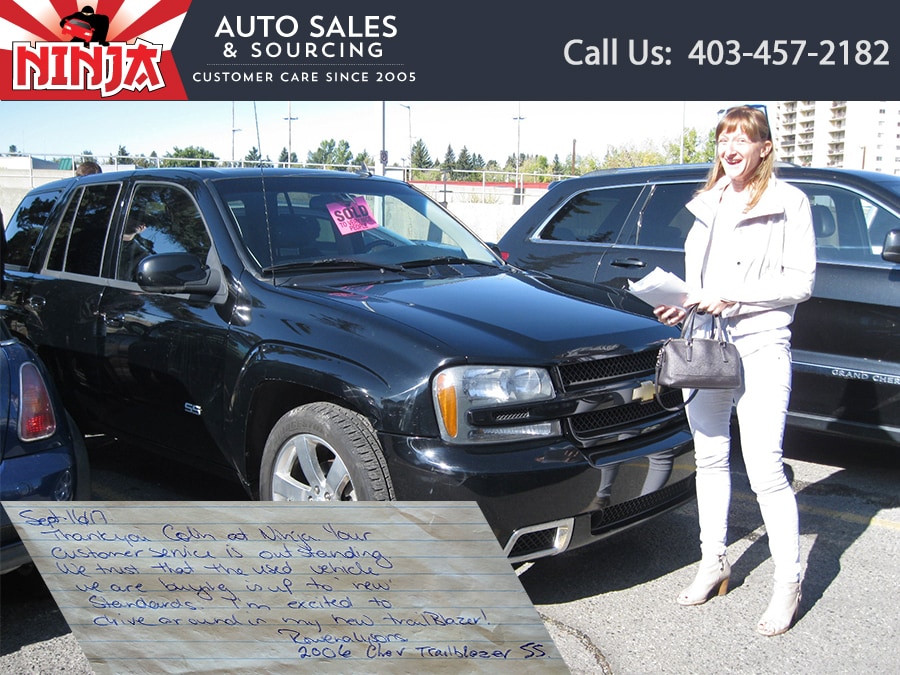 Thank you Colin at Ninja. Your customer service is outstanding. We trust that the used vehicle we are buying is up to "new" standards. I'm excited to drive around in my new trailblazer !
-Rowenalysons
---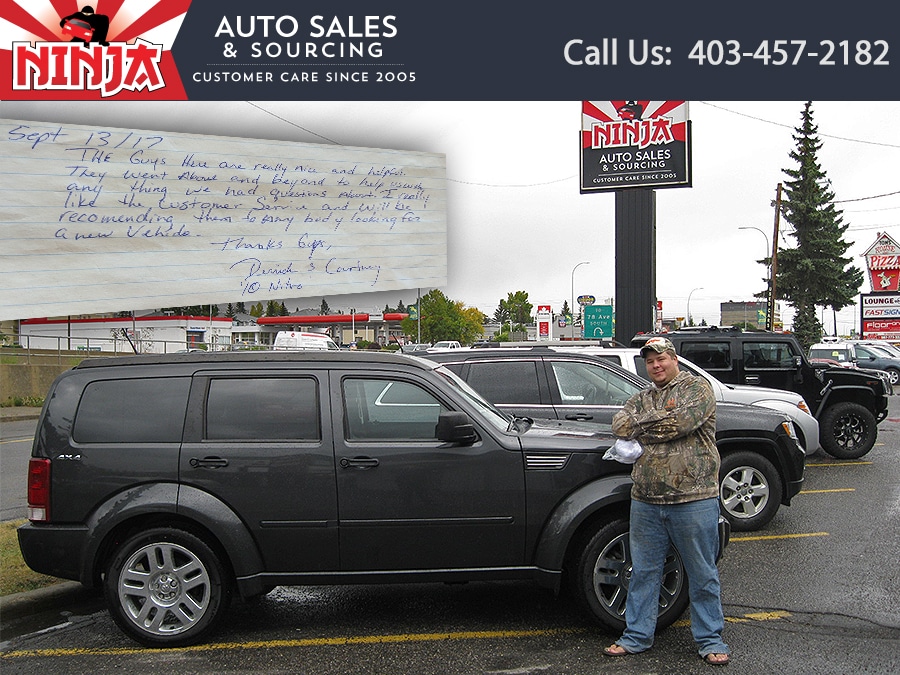 The Guys there are really nice and helpful. They went Above and beyond to help us with any thing we had questions about. I really like the Customer Service and will be recommending them to anybody looking for a new Vehicle.
Thanks Guys,
Derich and Courtney
---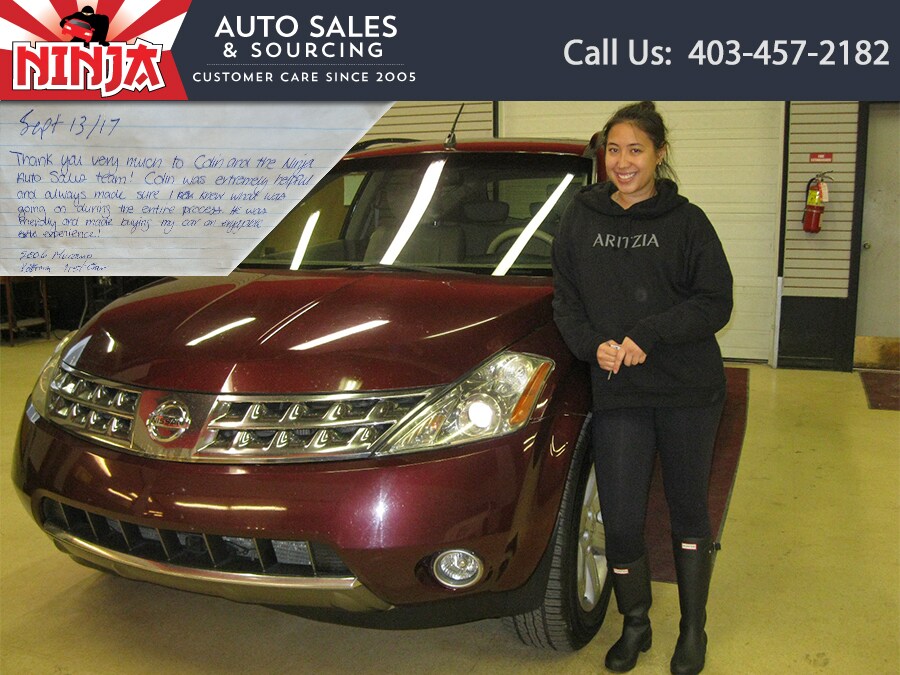 Thank you very much to Colin and the Ninja Auto Sales team! Colin was extremely helpful and always made sure I knew what was going on during the entire process. He was friendly and made buying my car an enjoyable experience.
- Katrina
---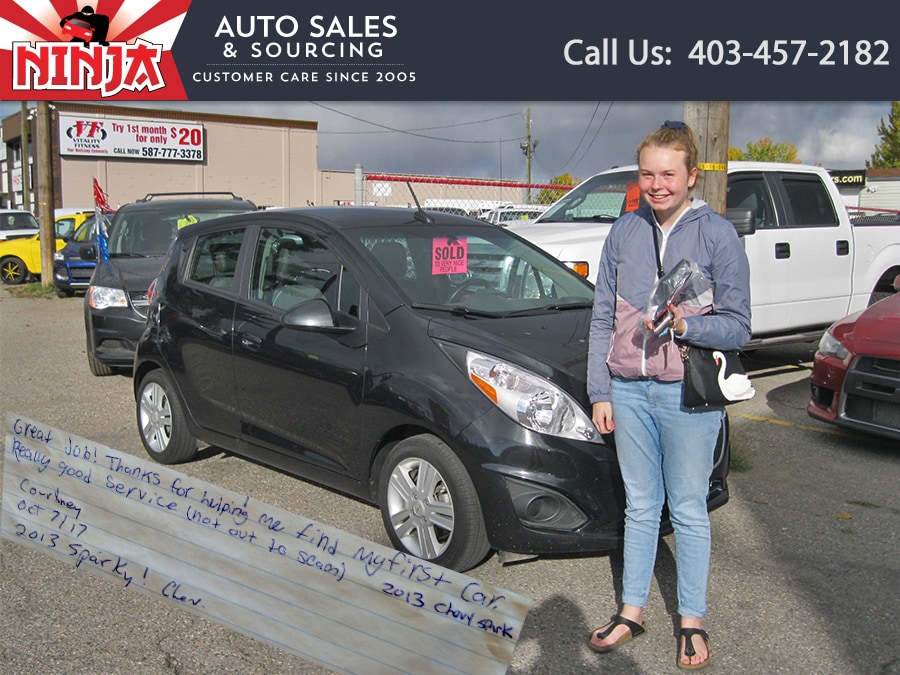 Great Job! Thanks for helping me to find my first car. Really good service (not out to scam) 2013 Chevy Spark.
- Courtney
---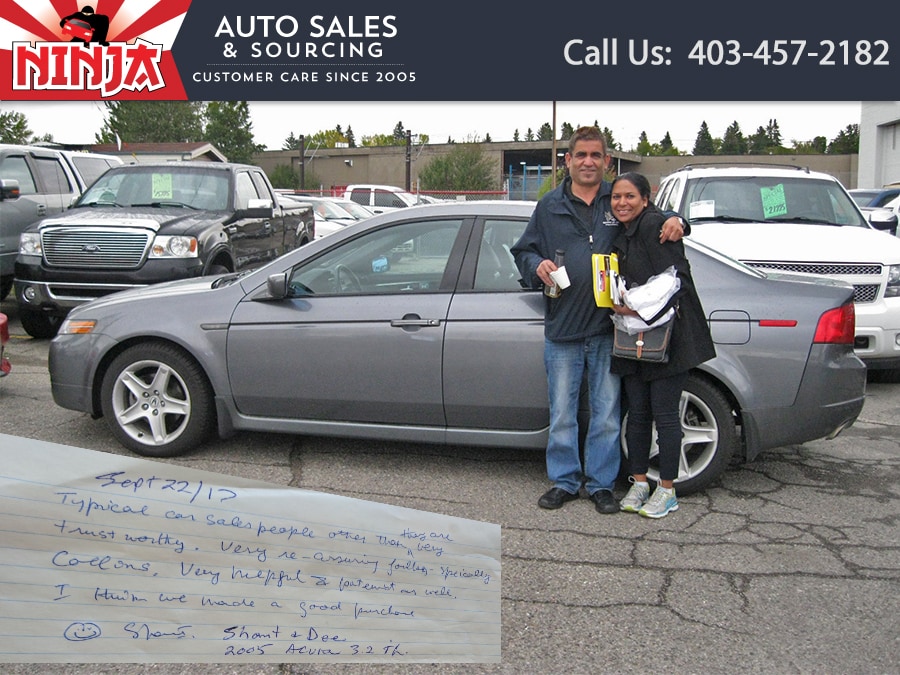 They very trust worthy not like other typical car salespeople. Very re-assuring sales - especially Colin. Very helpful and patient as well.
I think we made a good purchase. 
:) Thanks.
- Shamit and Dee
---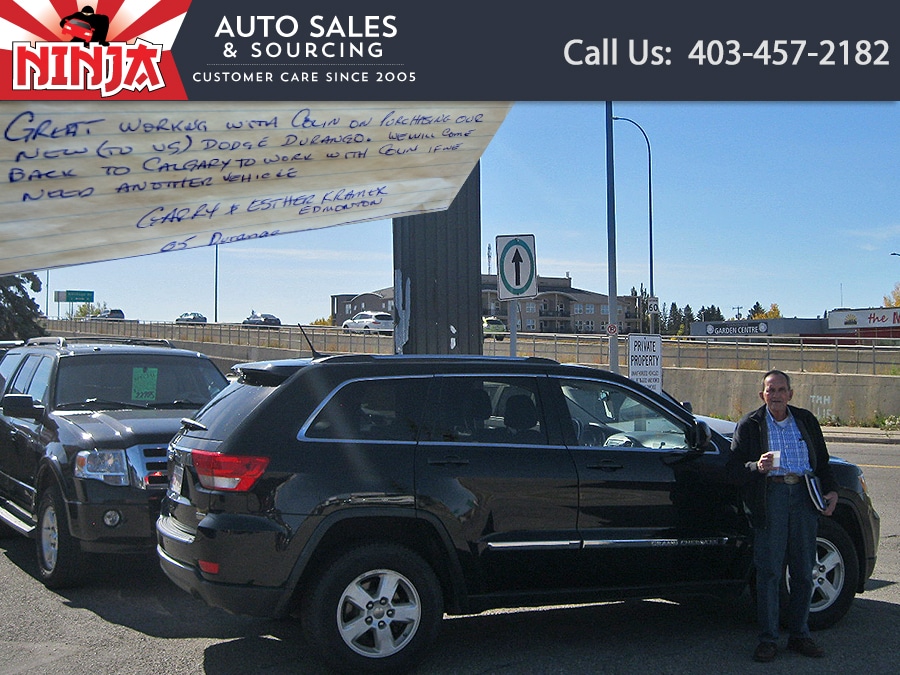 Great working with Colin on purchasing our new(to us) Dodge Durango. We will come back to Calgary to work with Colin in we need another vehicle.
Garry & Esther
- Edmonton
---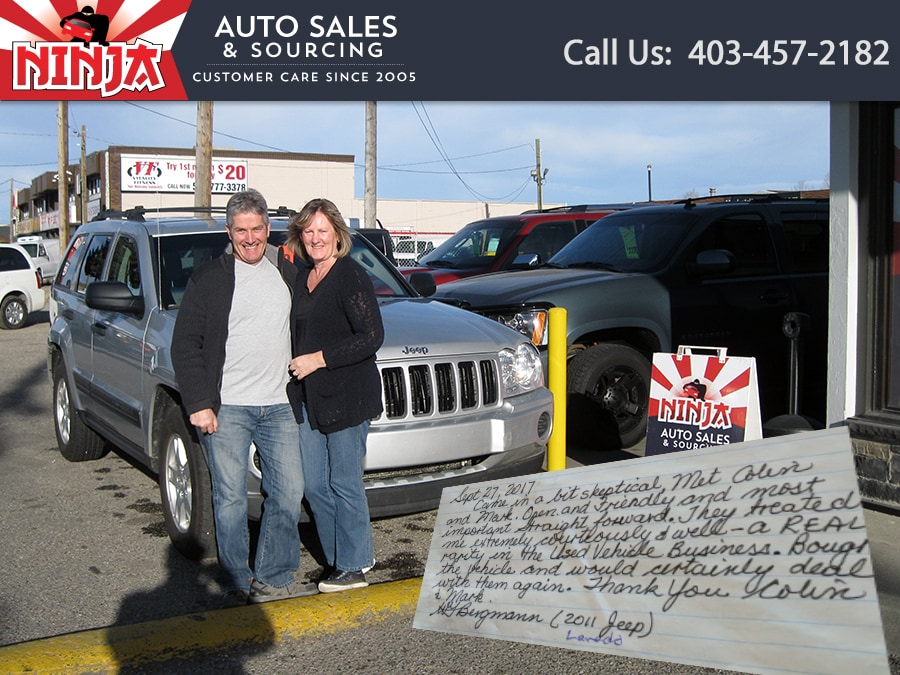 Came in a bit skeptical. Met Colin and Mark. Open and friendly and most important straight forward. They treated me extremely courteously and well. A real rarity in the Used Vehicle Business. Bought the vehicle and would certainly deal with them again. 
Thank you Colin and Mark.
- Bergmann
---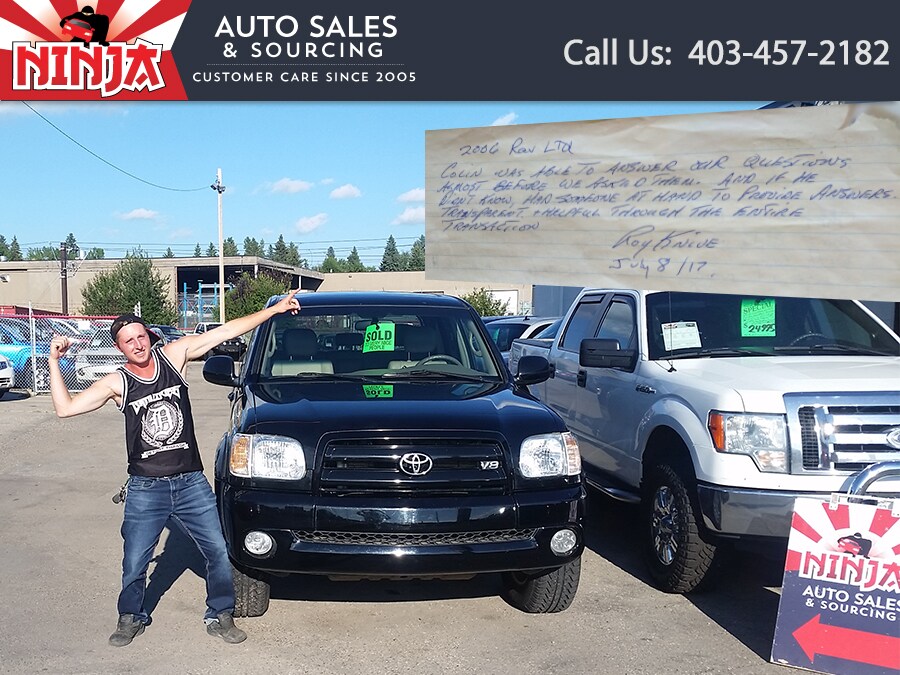 Colin was able to answer our questions almost before we asked them. And if he didn't`r know, had someone at hand to provide answer. Transparent + helpful throughout the entire transaction.
- Roy
---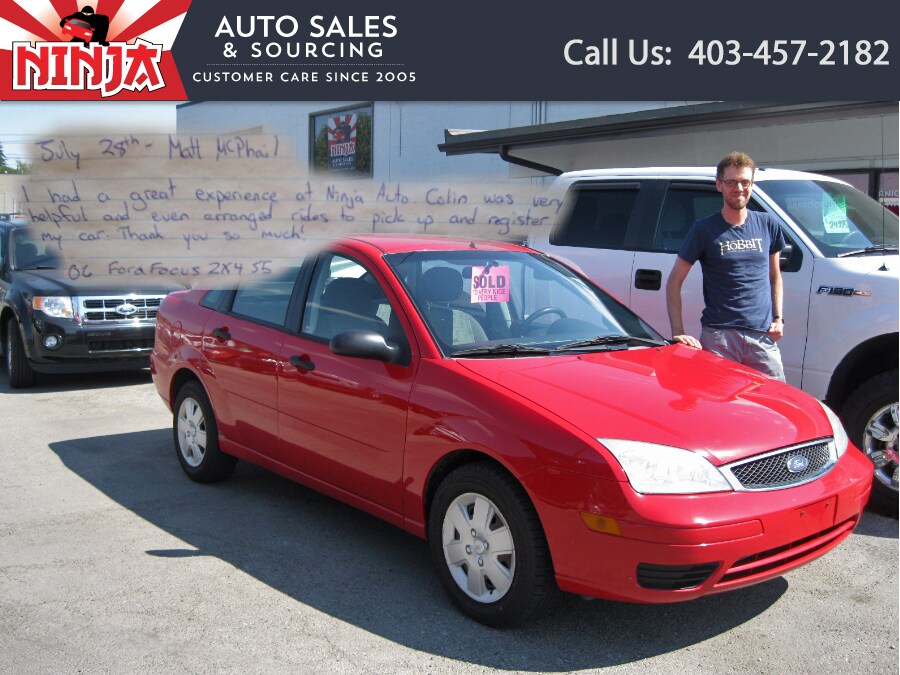 I had a great experience at Ninja Auto. Colin was very helpful and even arranged rides to pick up and register my car. Thank you so much!
- Matt
---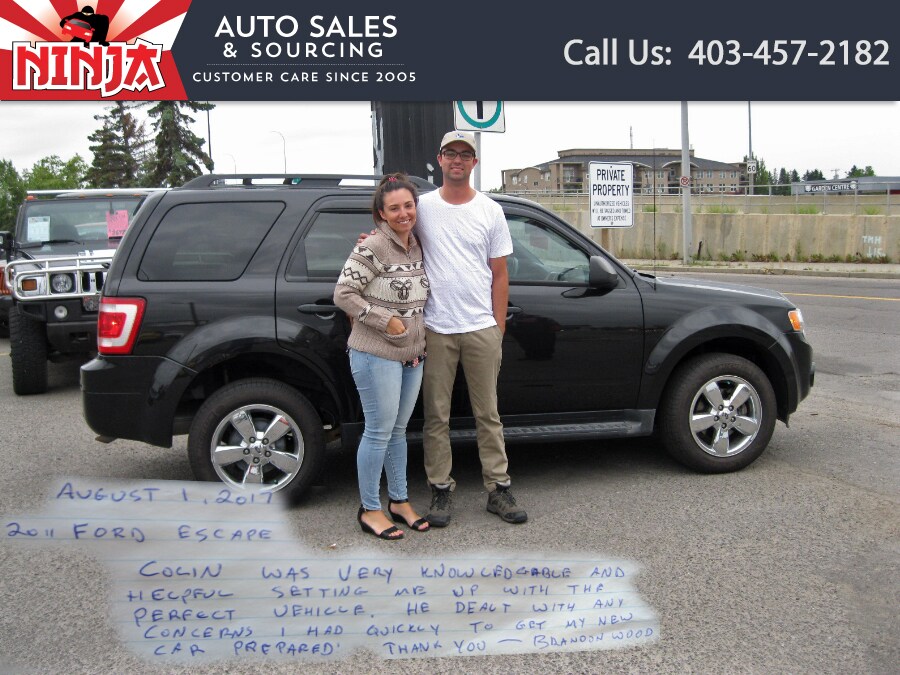 Colin was very knowledgeable and helpful setting me up with the perfect vehicle. He dealt with any concerns. I had quickly to get my new car prepared. 
Thank you.
- Brandon
---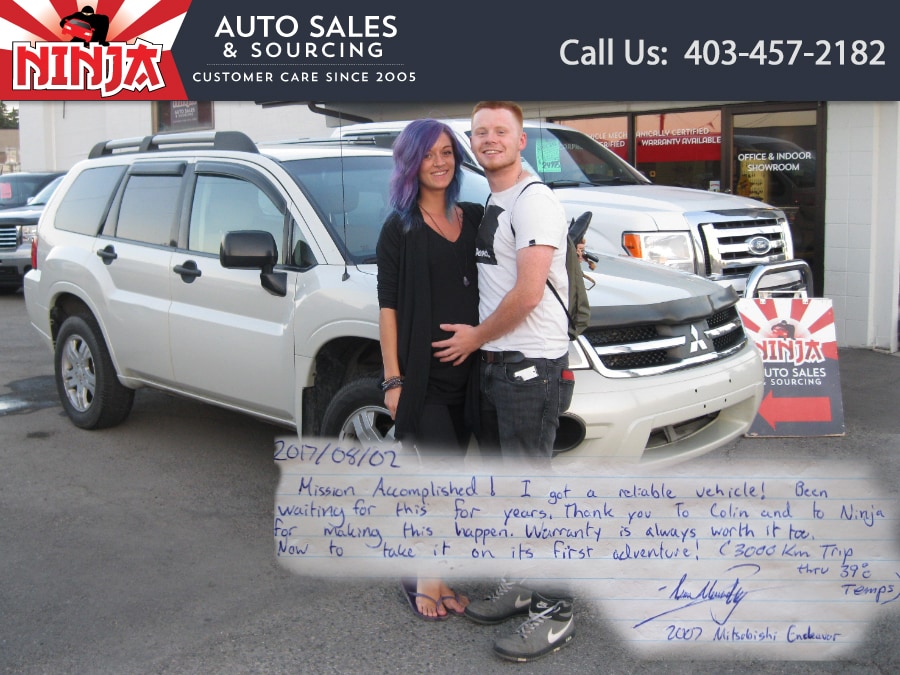 Mission Accomplished! I got a reliable vehicle! Been waiting for this for years. Thank you to Colin and to Ninja for making this happen. Warranty is always worth it too. Now to take it on its first adventure! 
(3,000 km Trip thru 39C Temp)
---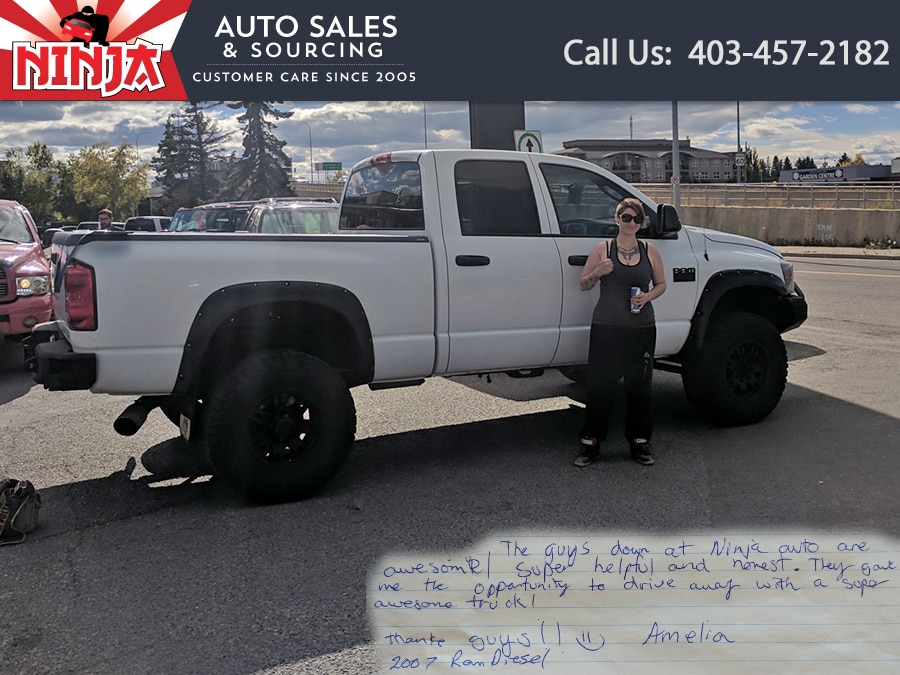 The guys down at Ninja auto are awesome, super helpful and honest. They gave me the opportunity to drive away with a super awesome truck! 
Thanks guys!! :) 
- Amelia
---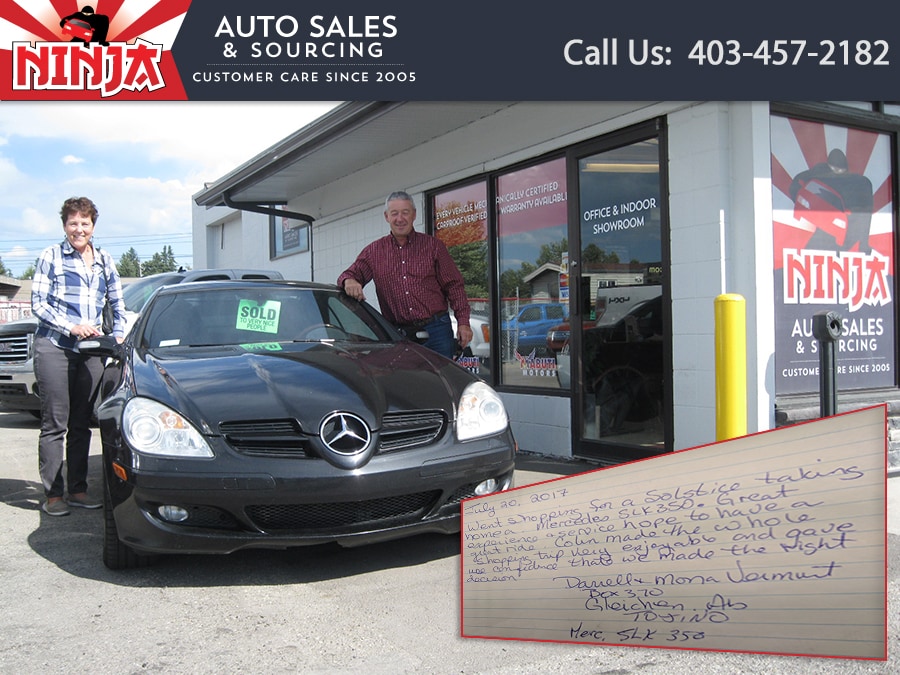 Went shopping for a Solstice taking home a Mercedes SLK350. Great experience and service hope to have a great ride. Colin made the whole shopping trip very enjoyable and gave us confidence that we made the right decision. 
- Darrell & Mona
---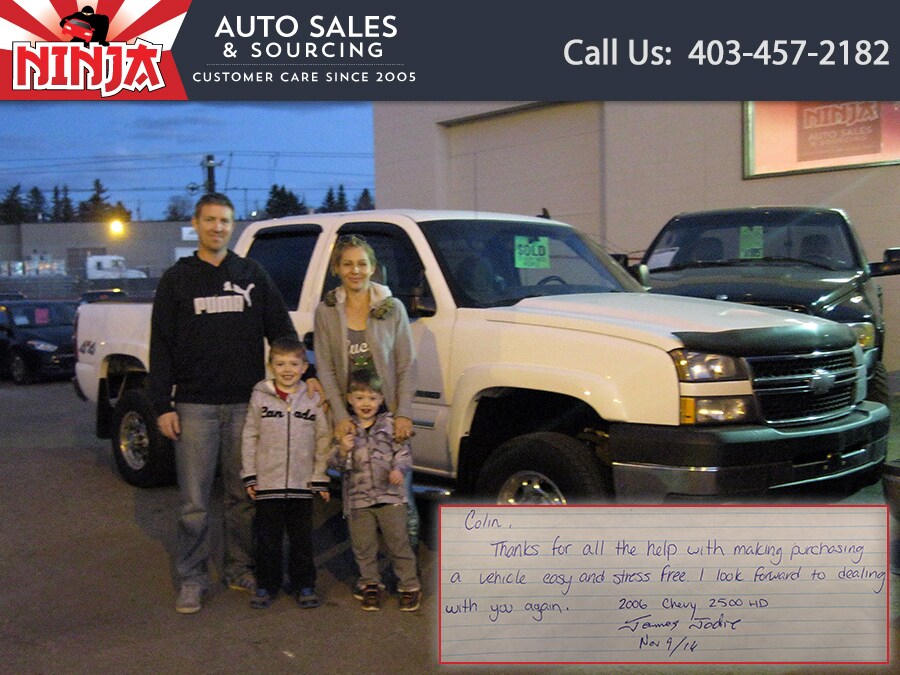 Colin thanks for all the help with making purchasing a vehicle easy and stress free. I look forward to dealing with you again.
- James
---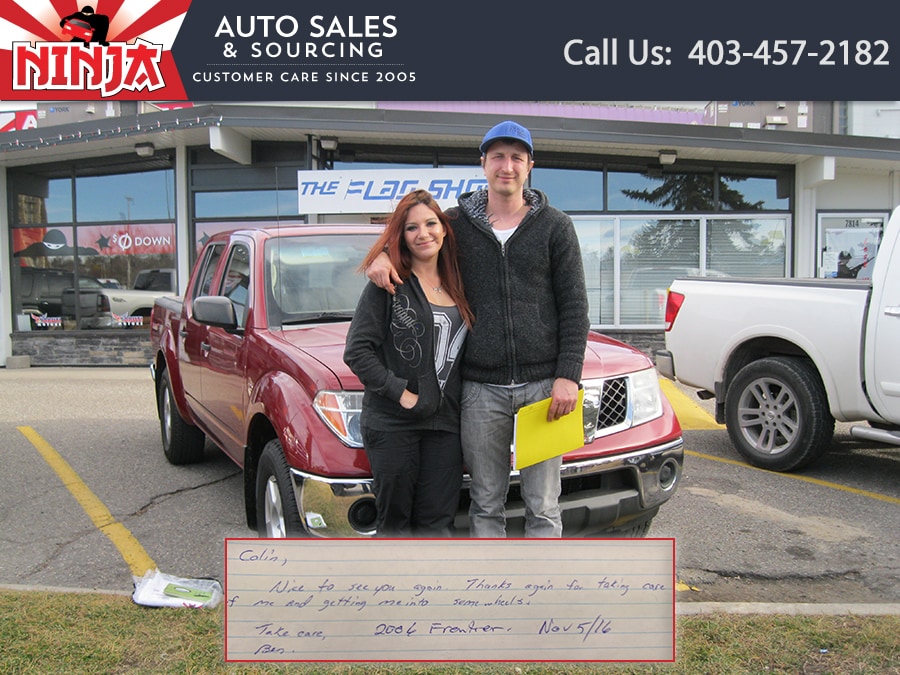 Nice to see you again Colin. Thanks again for taking care of me and getting me into some wheels.
- Ben
---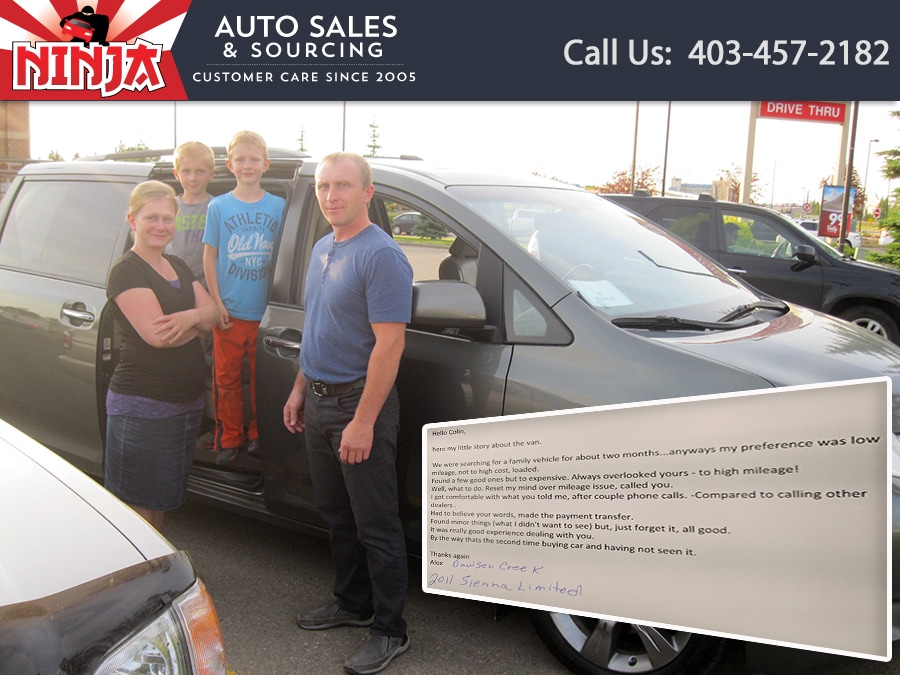 Here is my little story about the van.
We were searching for a family vehicle for about two months... anyways my preference was low mileage, not too high cost, loaded. Found a few good ones but too expensive. Always overlooked Ninja - too high mileage!
Well, what to do. Reset my mind over mileage issue and called Ninja. I got comfortable with what Colin told me, after a couple of phone calls. Compared to calling other dealers.
Had to believe your words and made the payment transfer.Found minor things (what I didn't want to see) but, just forget it, all good.
It was a really good experience dealing with Ninja Auto Sales. By the way it's the second time buying a car and having not seen it.
Thanks again,

- Alex
---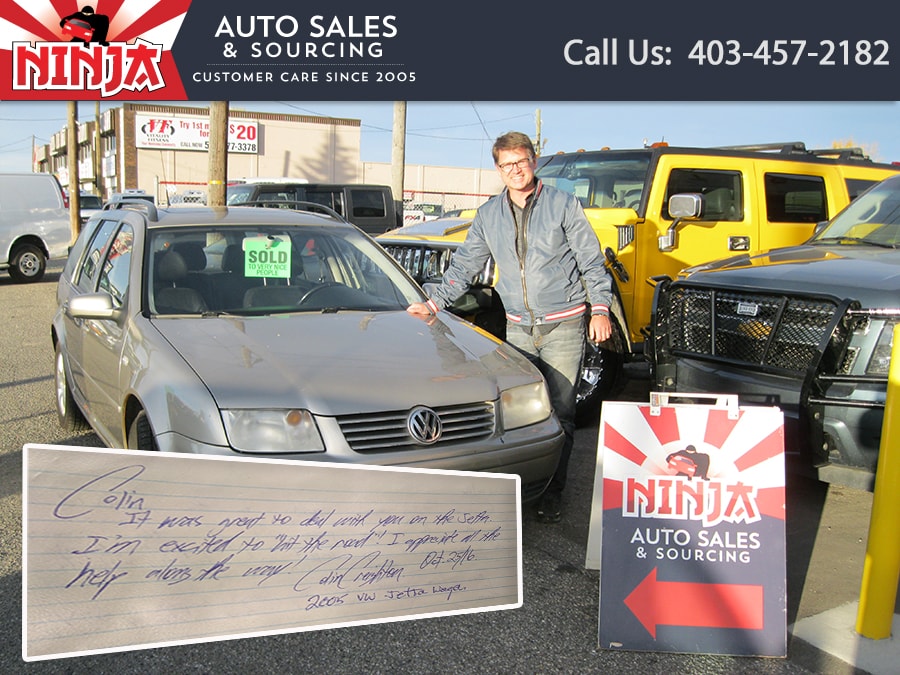 It was great to deal with Ninja Auto Sales on the Jetta. I'm excited to "hit the road". I appreciate all the help along the way!
- Colin
---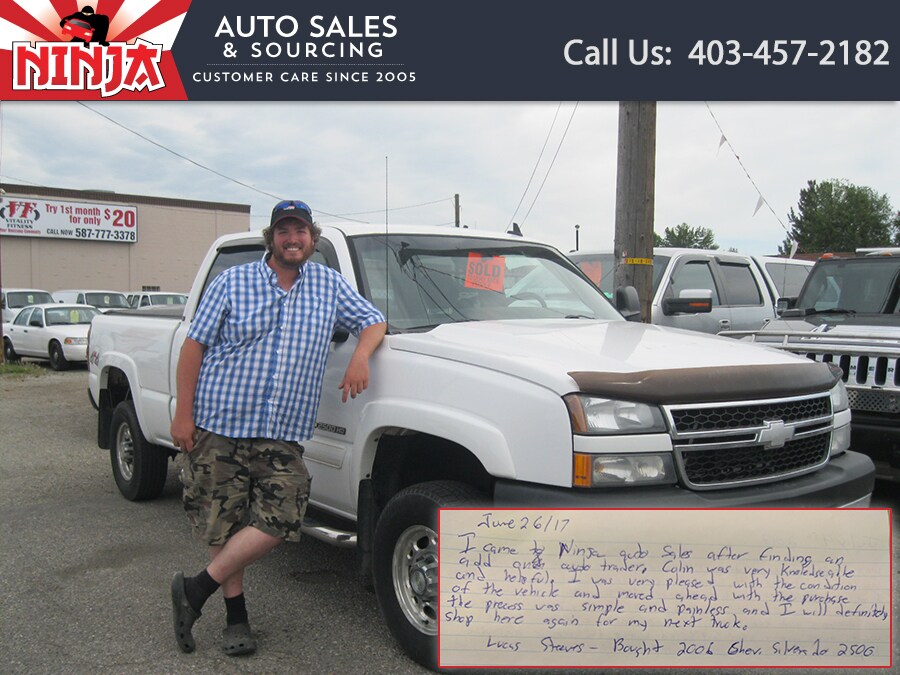 I came to Ninja Auto Sales after finding an ad on autoTrader. Colin was very knowledgeable and helpful. I was very pleased with the condition of the vehicle and moved ahead with the purchase. The process was simple and painless and I will definitely shop here again for my next truck.
- Lucas
---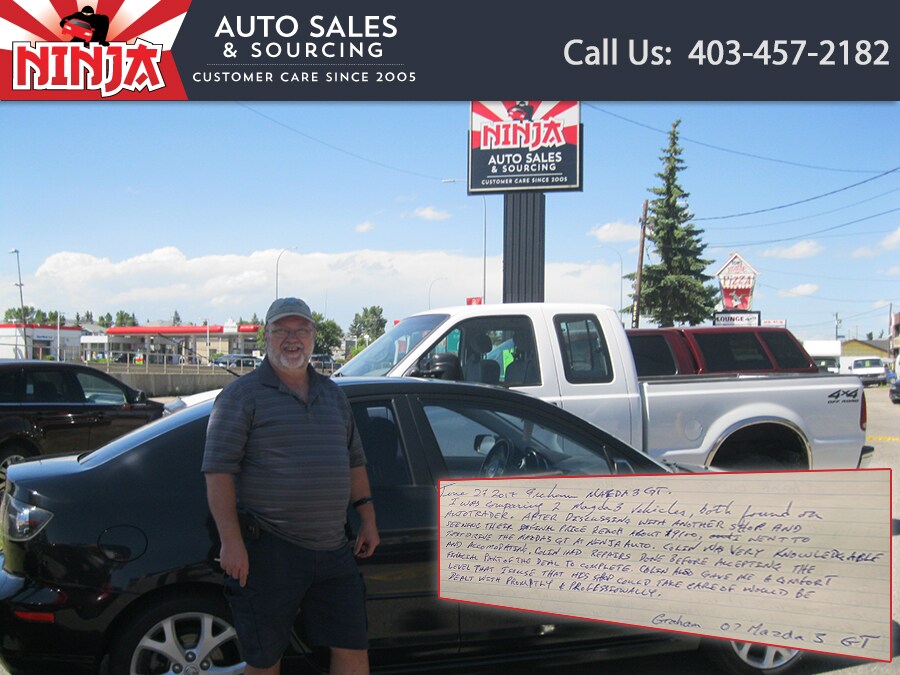 I was comparing 2 Mazda3 vehicles, both found on autoTrader. After discussing with another shop and seeing their final price reach about $9,100, I went to test drive the Mazda3 GT at Ninja Auto. Colin was very knowledgable and accomodating. Colin had repairs done before accepting the financial part of the deal to complete. Colin also gave me a comfort level that issue that his shop could take care of would be dealt with promptly and professionally.
- Graham
---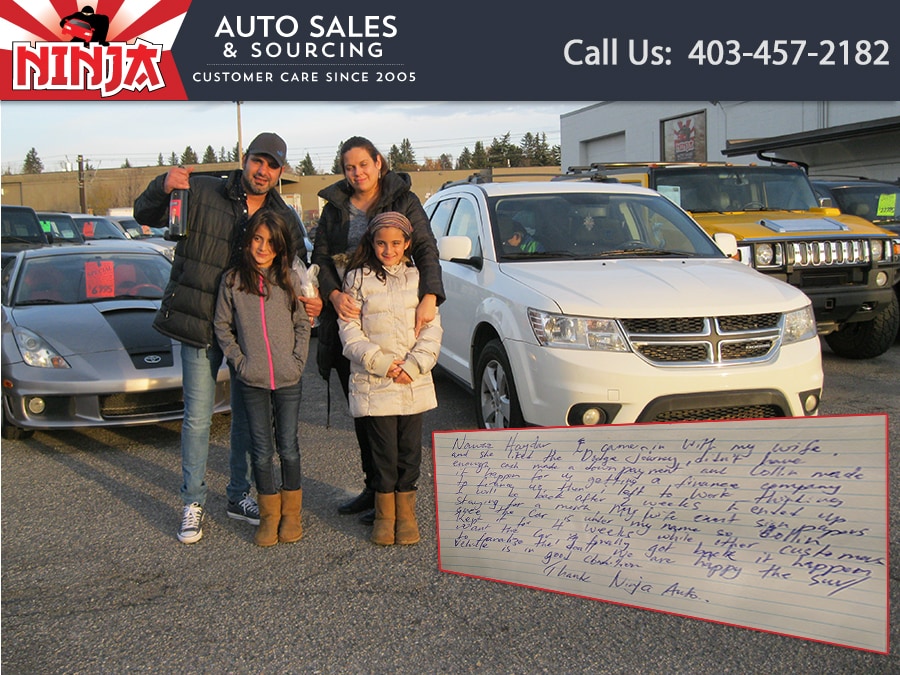 I came in with my wife and liked the Dodge Journey. I didn't have enough cash so I made a downpayment and Colin made it happen for us getting a finance company to finance us. I left to work thinking I will be back after two weeks and ended up staying for a month. My wife can't sign papers since the car is under my name so Colin kept it for 4 weeks while other customers wanted the car. I finally got back to finalize the deal. We are happy the SUV vehicle is in good condition.
Thanks Ninja Auto!
- Nawaz
---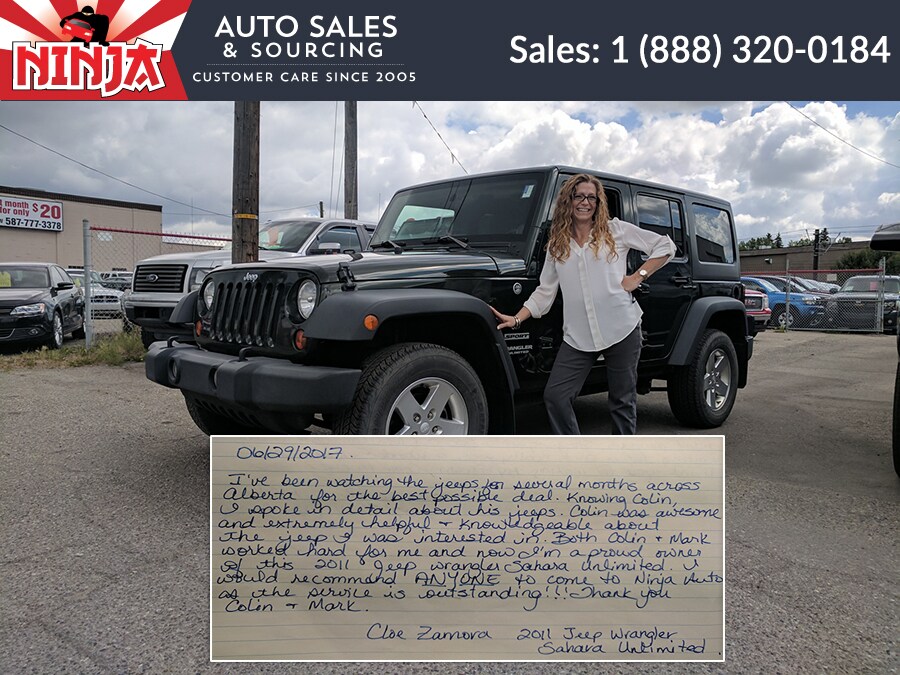 I've been watching Jeeps for several months across Alberta for the best possible deal. Knowing Colin, I spoke in detail about his Jeep's. Colin was awesome and extremely helpful and knowledgeable about the Jeep I was interested in. Both Colin and Mark worked hard for me and now I'm a proud owner of this 2011 Jeep Wrangler Sahara Unlimited. I would recommend ANYONE to come to Ninja Auto Sales as the service is outstanding!!
Thank you Colin and Mark.
- Cloe
---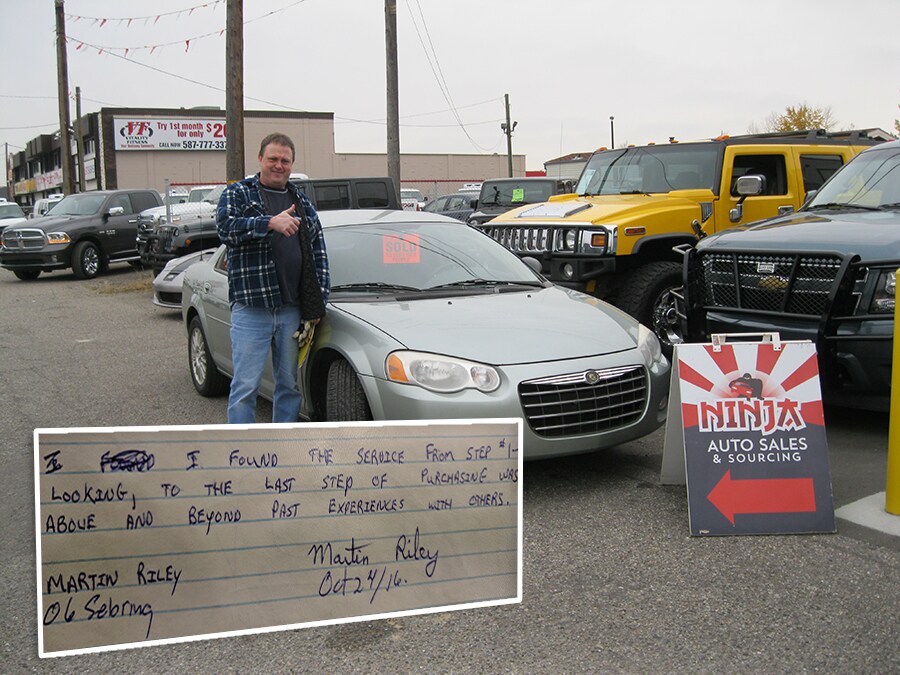 I found the service from Step #1 - Looking... to the last step of purchasing was above and beyond past experiences with others.
- Martin
---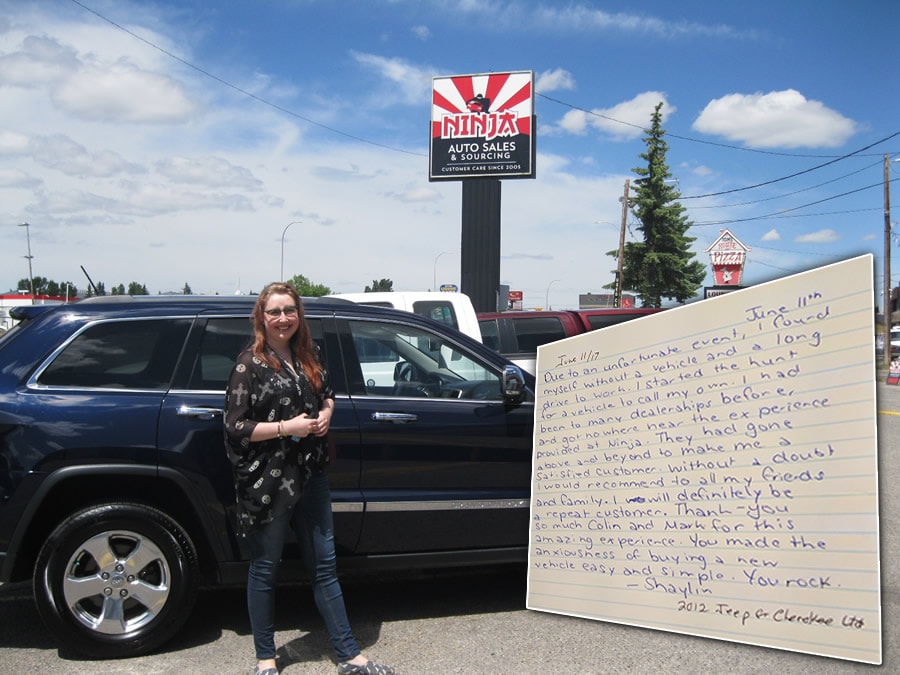 Due to an unfortunate event I found myself without a vehicle and a long drive to work. I started the hunt for a vehicle to call my own. I had been to many dealerships before and got nowhere near the experience provided at Ninja. They had gone above and beyond to make me a satisfied customer. Without a doubt I would recommend to all my friends and family. I will definitely be a repeat customer. Thank you so much Colin and Mark for this amazing experience. You made the anxiousness of buying a new vehicle easy and simple. You rock.
- Shaylin