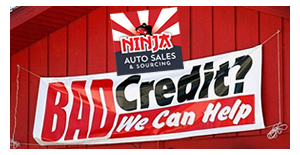 Are you looking for bad credit car loans in Calgary?
Ninja Auto Sales has knowledgeable and friendly auto finance experts who specialize in Bad Credit Car Loans in Calgary.
Auto financing can be bit of a headache for anyone with poor credit. Like with all other forms of financing, poor credit can shut many doors in your search to access credit from traditional car loan providers.
Purchasing a car with a bad credit car loans in Calgary may just be the help you need to improve your credit score. Our lenders can assist you in rebuilding your credit by contacting the credit rating agencies each time you make timely monthly payments. This can significantly boost your credit rating over time. Get your dream car while repairing your credit score by getting a bad credit car loans in Calgary.
Get started now by completing the application below: